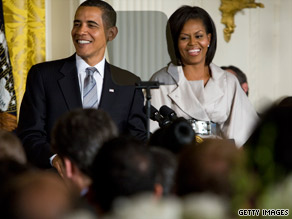 In the hustle and bustle of New York City this morning, I lost my keys. Everyone look for them.
More importantly, I met the President, Barack Obama, and his wife, the First Lady, Michelle Obama.
Eliza, Eve, and I took the shuttle plane to D.C. I strongly discourage ever doing this because it was one of the most terrifying landings, and the weather was perfect! Fortunately, we survived, and were able to meet my parents for a long lunch at
Cafe du Porc
, where I sheepishly ordered
Pommes Frites
and sauteed vegetables. Before hand we'd made an overly dressed visit to the Museum of Native Americans, where I learned that skateboarding and surfing are Native in heritage.
Before I go on, I want to say that I was wearing a crisp white shirt rolled quarter-length, a black vest, black fitted dress pants, a silver and navy stripped bow-tie, and my silver leather dress shoes with James Dean on the bottom!
After lunch we casually walked to the White House with a group called Seniors Advocating in a Gay Environment (SAGE), and met up with the rest of the reception outside the gates by the East Room. There we mingled in the heat with rich gay people and prominent gay rights activist. Notably, I was introduced to Gene Robinson - one my dearest heros. He was fabulous!
When in the White House we mingled some more before being ushered into the "Green Room"
(which is green)
, and lined up to meet the President. At this point I was forcing myself to breathe; "I'm on a mission!" I kept thinking to myself. On entry into the room, I heard Obama's poignant and comforting voice greet me. His handshake was firm. Instantly, "Hello Mr. President! Thank you for being a visible ally for teens like me." No real response, and then:
"Those are THE coolest shoes that have ever been in the White House!"
No time to think about compliments from the President. He wasn't listening so I moved to Michelle who I feel I might have fallen into her
embrace
(which makes sense because this was called a "clutch"). I told her how important it was for her and her husband to stand up and be allies, and she commented that it was far more important that I keep doing the work I was doing, and I said, "
Yes
, but
it would make the difference if you were visible!
"
Snap. Picture taken. My clarion call to action was over in less than 45 seconds. My parents and I delivered our message and huddled outside the room giggling like children.
I run into the East Room as soon as I hear his voice; Barack Obama is delivering his reception speech. He spoke so eloquently and realistically, and accommodated for someone's "gay duck" ring tone to go off with humor and laughter. His promise was this, "LGBT people will appreciate and find strength from him by the end of the administration." He didn't ask us to be patient, and he acknowledged not doing anything now will hurt real peoples' lives, but that this should serve as evidence of the urgency of the issue. I HOPE he knows what he's doing, and I do have a feeling he will come through with what he says.
It's back to mingle time! During this time I introduce myself to State Senator of Connecticut, Andrew J. McDonald, and Secretary of State of Oregon, Kate Brown, who both seemed interested in my person.

Yay!
Finally, Michelle and Barack were off - no more mingling for them. I smiled and waved and mouthed, "Thank you!" to Michelle, and without missing a beat,
she opened her arms for a hug
, and beckoned me to her; I swiftly fell into her arms, and whispered one last time,
"Thank you for being an ally - it means the world to me!"
And my White House experience was a success. As Senator McDonald imprinted on my mind that view of the Thomas Jefferson Memorial staring out of the windows of that White House, I do look forward to returning.
CONRAD'S MUST-DO'S:
** FIND COMFORT IN THE FIRST LADY'S AFFECTION.
** TAKE RISKS AND WEAR CLOTHES THAT STAND OUT; CLOTHES THAT PEOPLE CAN'T RESIST COMMENTING ON.
** LOOK CUTE AND GAY AND SMILE SO THAT PEOPLE TALK TO YOU.
CONRAD'S MUST-NOT'S:
** SPIT ON IMPORTANT PEOPLE BY ACCIDENT.
** ORDER A SHIRLEY TEMPLE AT THE WHITE HOUSE.
** TALK TO TAXI DRIVERS.