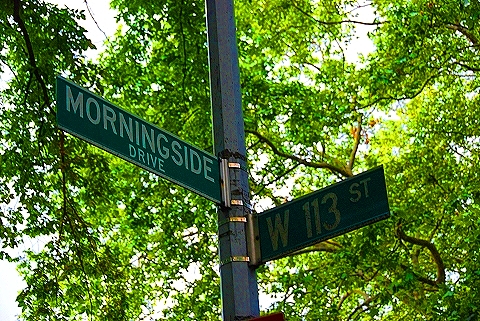 Today I woke up to my first full day in NYC! How exciting! My routine at Marie's is simple: wake up, deconstruct my bed and reassemble the couch, take a shower, change clothes, eat breakfast, and head out the door! Thanks to the help of a dear family friend, Joel, I'll be walking a short distance to the Columbia University Station and taking the 1 train (local) all the way down to South Ferry.
Unbeknown to me, lower Manhattan is extremely small! What seemed like five blocks on a map turned into less than one in real life; GLSEN (90 Broad Street) is within eyesight of South Ferry! Sorry to sound super excited, but the truth of the matter is that the easier this city becomes for me, the more I appreciate the complexities that really exist.
For instance, I'm sitting in the one train. The train stops and all of a sudden a Mariachi band boards and starts singing and playing guitar - and it's perfect! Seeing as this never spontaneously occurs in Knoxville, I burst out into laughter and applause while all the locals seem more entertained by my response; interesting dynamics that the tourist becomes the attraction!
Another example is when your very own Conrad Honicker enters the financial district. When I say the financial district, I'm talking Wall Street's finest! Suits, ties, the works. I'm present in a cute combination of teal H&M short shorts and a white button V-neck with thin navy stripes - you'd have thought those people were about to lose their cool!
Finally, when I exit the subway at 125th from the D train, it's pouring rain. Apparently, when it's lightening and thundering and raining cats and dogs, pedestrians are still treated like wild animals trying to cross the street; taxi's honking, buses honking, and even real live people in cars honking at you when you're being drowned by a storm!
Fortunately,
G
L
S
E
N
is amazing. Today I did some follow up work with Eliza Byard, the Executive Director, and Daryl Presgraves, that involved writing three thank you letters explaining my gratitude and giving my spiel one last time to the Obamas and one of his senior advisers. With Daryl, I worked with an amazing intern named Kyle who interviewed me about the White House event.
Afterwords I adventured to this wonderful little bookstore called
Bluestockings
in the Lower East Side where I peruse DIY books and found a comfortable queer radical safe space.
Tonight I came home and bought groceries. After I cooked my meal, I went to return something to the refrigerator and my stuff was moved to the icky nasty bottom part and a sign was placed over the other food saying,
"DON'T EAT FROM HERE!!!"
I calmly cleaned out the shelf, organized my food, and wrote a sign that said,
"Conrad's Nook (Please ask before using)"

and then replied to the earlier sign with,
"I wouldn't dream of it!"

. The roommate here is a little territorial and protective of Marie. I think he's lovely, but I'm getting some slight tension. To his credit, Marie did not speak with him about me coming, and he has family coming in, which he was going to have sleep where I'm sleeping. Let's just say I'm going to make no extra trouble for him, and even take up some chores like walking the dog and "contributing to the Marie family" as he explained.



I cannot wait for tomorrow: wish me luck!

CONRAD'S MUST-DO'S:


** BEFIREND THE CARETAKER OF THE WOMAN YOU'RE STAYING WITH AND MAKE HER SUPPER.


** RUN IN THE RAIN.
** SMILE AND NOD WHEN INCONVIENCING PEOPLE.


** SUPPORT LOCAL MARIACHIS WITH QUARTERS AND DIMES.





CONRAD'S MUST-NOT'S:


** SIT NEXT TO LOUD OBNOXIOUS GIRLS ON THE CROWDED SUBWAY.
** GET LOST IN CHINA TOWN.


** CROSS FOUR LANE TRAFFIC AGAINST THE LIGHT.


** ASSUME EVERYONE IS FROM HERE.